The Fine Art Auction Group
Antique and Fine Art Auctioneers
Sixmilebridge / Doneraile / Galway
We conduct monthly Auctions of Antiques, Silver, Art and house contents in our Auction Houses.
We are also available to conduct onsite auctions.

ASHFORD CASTLE INTERIORS SALE
at Cong, Co. Mayo

PLEASE NOTE THIS AUCTION IS NOT TAKING PLACE ON THE CASTLE GROUND.
Directions as follows. Drive through Cong. When you get to the Spar Shop follow the Road until you meet a left hand turn for "Maam", follow the Auction signs along the road. Sat Nav. 53.535416,-9.311993 (Croughrim, Co. Galway)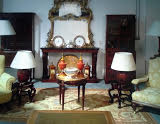 Wednesday 23rd July @ 9.30am
PLEASE NOTE CHANGE OF START TIME DUE TO VOLUME OF LOTS


TODAY Tuesday 22nd July 10am - 8pm
COLLECTIONS Thursday 10am - 8pm (Please note there will only be one day for collections)


PARENTS PLEASE NOTE THIS VIEWING IS NOT SUITABLE FOR CHILDREN

ENTRY TO AUCTION BY CATALOGUE
CATALOGUE €5 (ADMITS 2)


Ashford Castle which is currently undergoing a major refurbishment to maintain its position as one of the worlds leading hotels is to offer the public an opportunity to buy a bit of Luxury. The new owners of Ashford Castle are having a clear out of high-end fixtures and furnishing as they continue to their extensive refurbishment of the hotel. The items have been removed to 2 warehouses where Aidan Foley will conduct the auction. The provenance is incredible and this is a chance to get somthing that lots of people would ordinarily not get a chance of owning. This is a most exciting Sale offering an opportunity to purchase some excellent quality items.


CLICK HERE TO VIEW CURRENT CATALOGUES
Text your name and number to 085 8604704 if you want to receive a text alert.


We are now offering Live Auction Bidding from Easy Live Auctions. To register for the Ashford Sale Live Auction just Click on the Galway-Live Auction Catalogue (This will be available from Monday)


Live Internet Bidding NOW AVAILABLE
That's right, LIVE INTERNET BIDDING is now available through Easy Live Auction for our Sixmilebridge and Galway Auctions. Simply register with them and bid from home. Easy Live Auction offer the option of a flat fee of £3.00 instead of the 3% additional buyer's premium so online need not be expensive.
Our Doneraile auctions will be listed with Easy Live Auction and we will be accepting absentee bids through their website.
Visit https://www.EasyLiveAuction.com to find out more.


Please email any queries directly to Aidan on auctionrooms@hotmail.com


--------------------------------------------------------------------------------------


Email: auctionrooms@hotmail.com

If you are unable to attend any of our auctions we can bid on your behalf. You can either fill out a bid form at the auction rooms or else just email us a bid. We need to receive email bids before 9am on the morning of the sale otherwise we cannot process them.